Hello!!!
Semalam ada free time and DD pun memang off day so apalagi. Kami pergi karok dulu kat Red Box. Byk sgt lagu2 baru so memang lepas geram lah. Agak lama juga kami tidak berkarok sama-sama. Lepas habis jer karok, kami (lebih kepada aku) decide nak tgk Grown Ups 2. Aku tgk movie yang first. Lawak dia memang slapstick lah, tapi aku tak kisah sebab memang nak hiburkan hati pun.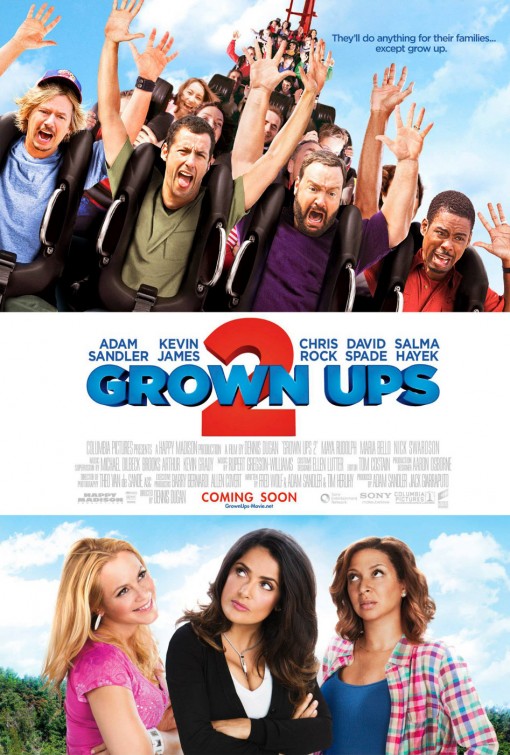 Sequel ni still lagi mengisahkan persahabatan empat orang sahabat (minus Rob Schneider). Walaupun usia mereka dah lanjut, tapi mereka berempat ni masih lagi belum matang.
Lenny Feder (Adam Sandler) mendapat musuh baru secara tak sengaja iaitu geng-geng fratboy dari fraternity house kat situ. Wife dia pulak, Roxie (Salma Hayek) bimbang utk bagi tahu Lenny yang mereka akan mendapat baby baru. Anak-anak mereka pun sudah membesar. Greg mula terpikat dengan rakan sekelasnya, Keithie pula dibuli dan Becky pula makin petah bercakap dan makin bijak.
Kurt (Chris Rock) juga dah ada 3 anak bersama isterinya, Deanne (Maya Rudolph). Anak-anak mereka juga dah makin membesar. Andre sedang menduduki ujian memandunya, Charlotte pula berbakat dalam bidang nyanyian dan si comel Ronnie yang nakal dan jugak sangat cute.
Eric (Kevin James) pula banyak menghabiskan masa bersama ibunya. Sementara wife dia, Sally (Maria Bello) terlebih positif dalam mendidik anak2. So anak-anak mereka sedikit pelik. Donna dengan citarasa fesyen yang weird sementara anak bongsunya Bean tersangatlah dumb but very charming and adorable.
Sementara Marcus baru mendapat tahu dia mempunyai seorang anak lelaki, Braden hasil hubungannya dengan rakan sekelas dan anak lelakinya sudah meningkat remaja. Anak lelakinya membesar menjadi seorang yang pemarah.
Overall, cerita ni memang lawak cuma plot dia macam lemah sikit. Tak tahu apa konflik dan plot utama cerita ni. But untuk ketawa tu memang okay. Korang mesti akan terbahak-bahak kat dalam panggung wayang tu.
Rating: 3.5/5